About Design Collaborations
Established in 1990, Design Collaborations is an innovative design firm creating hand-made glass works, public art and landscape architecture located in Tucson, Arizona. Our name is informed by our core design philosophy that excellent design is produced through collaboration and participation, and we strive to carry that to all the different types of work we do.
Glass Works
We create hand-made cast glass works. Using the age-old technique of lost wax casting. We craft forms ranging in shape from jewel-like elements to large sculptural pieces. Our work, which is featured in settings ranging from private gardens to urban spaces, blends industrial gear and traditional bead forms. By combing the creative talents of our team, we meld fragility and solidity, transparency and opacity, and visual and tactile beauty.
Public Art
Design Collaborations has been involved with public art since it's inception. Successful public art requires co-operation from many parties; donors, stakeholders, artists, fabricators, and governing bodies. It is easy to have an idea or draw a design. The true skill comes in realizing that idea or design through fabrication and construction. We have an extensive network of contractors who assist in the process. It takes a village. Communication is the key on all levels. The process demands that we work well with others; all our projects are collaborations throughout.
Landscape Architecture
In our landscape work we are committed to thoughtful and dramatic landscapes for residential, commercial and community settings with a commitment to collaboration, creativity and innovation. We combine the respect of plants, the joy of hardscapes, wise use of materials and an eclectic mix of textures to bring settings to life. As strong believers in participation and collaboration, we have developed a reputation for responsiveness to the client and to the community. Design Collaborations is committed to creative solutions, to including public art, and to thoroughly addressing the needs of the project. The success of previous projects has been based on establishing excellent lines of communication throughout the ever-changing design process. We provide exciting, creative, and positive responses to any project requirement.
About Margaret L. Joplin RLA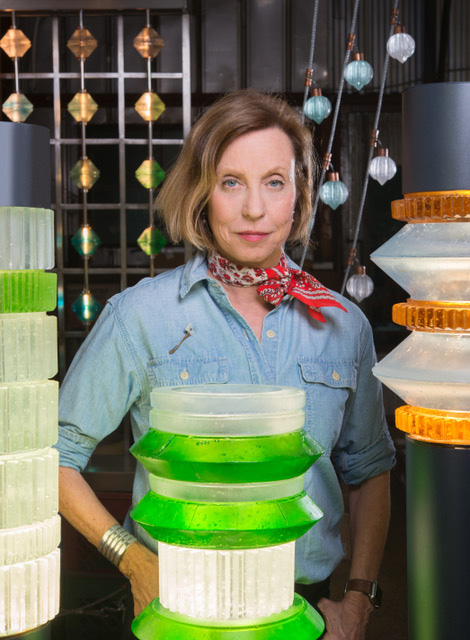 Margaret Joplin established Design Collaborations in 1990. She brings an exciting range of experience to projects. Having designed both public art, urban, commercial, and residential landscapes, she is well prepared and willing to undertake any project. She has designed, fabricated, installed and constructed projects; and has an extensive experience in creating comfortable, welcoming environments. Margaret has earned a consistent record of following through at every point in the process. She meets deadlines and respect budgets.
About Michael Joplin
Michael began college in printmaking but quickly discovered the possibilities of glass. He began blowing glass in 1972, and opened his first studio in 1978 in Prescott, Arizona. Michael has studied or interned with Dale Chihuly, Mark Peiser, Klaus Moje, Fritz Dreisbach, Jack Schmidt, and Ann Warff. He was heavily involved with the Sonoran Glass School, serving as board member from inception in 2001 until 2017. After several glass studios in Tucson, he joined his wife in making unique glass works using the lost wax method to create public art as well as lighting and other decorative and functional items.
Design Collaborations
403 North 6th Avenue Suite 157
Tucson, Arizona 85705
(520) 623-8068